Shopping Cart
Your Cart is Empty
Thank you for your business!
You should be receiving an order confirmation from Paypal shortly.
Exit Shopping Cart
Renae founded A Darrah Bull Bully Rescue in 2012. The rescue is named after her pit bull, Darrah. Renae has two daughters, Monica and Gillian, and is engaged to Mason. She has three pitties of her own: Darrah, Optimus, Pessy, and Dallas. Renae has helped save over 500 dogs since starting ADBBR. She is an inspiration to many! Her love for dogs is what drives her desire to keep saving more.

Beckee has been with the rescue since 2014. She has been involved in the rescue world since adopting her first pit bull, Ruger, in 2012. She now has three pitties of her own (Ruger, Kaeda and Toby) and has fostered over 100 others in the last 4 years. Her favorite dogs are the sick and abused ones she can nurse back to health and gain their trust.
Heather became involved in the rescue since 2014 after Renae asked her to pick up a puppy in Virginia and transport it back to PA. That one transportation had her hooked and she began her amazing job as the "Transport Queen". Heather not only volunteers her time to us but also to Reach Out Rescue and Resources and is on the board with them. Heather dedicates so much of her time to making sure dogs are going here, there and everywhere! She has 3 dogs of her own: Daisy, Bailey and Moe (ADBBR alum). Heather is leaving us and moving to Montana this summer but she will still be our go-to-girl for all transport coordination!
Brenda has been with the rescue for 5 years. She is married and works for the Glendale Area School District and has a daughter, Brooke and her fiancée, Jamie. Brenda fosters, plans fundraisers and school events, helps at events and transports. She has rescued three dogs from ADBBR (Marley, Toots and Sky) and has a few more also!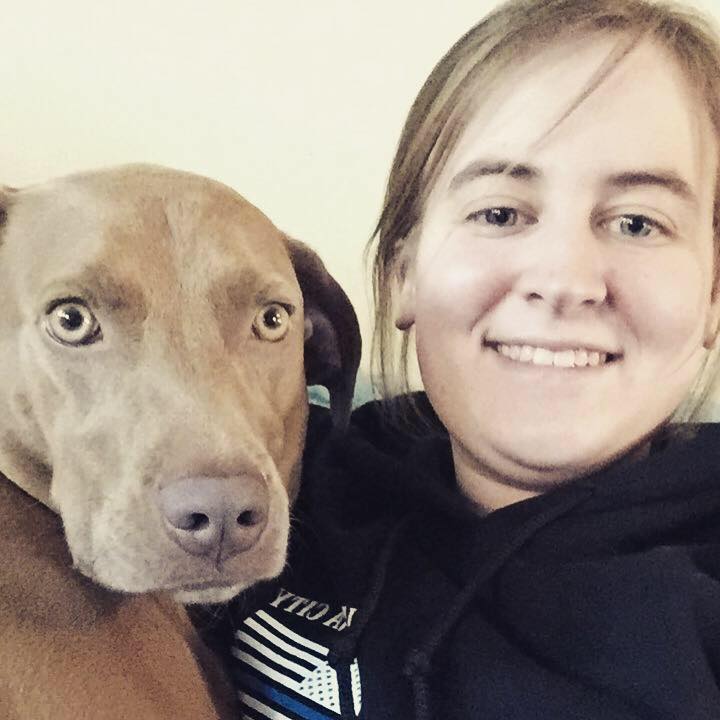 Kim has been involved with the rescue for 6 years. She recently graduated from college with a degree in Criminal Justice. Kim will be going into the police academy to fulfill her dream of being a police officer. She is the proud fur-mom to Lilith, her ADBBR rescue. Kim is an amazing foster who spends countless hours with her young foster pups to make sure they turn out to be amazing dogs for their forever families!
(Mike, Christine, Mikey, Emily and Kim)
Marta has been with the rescue for 4 years. She is our go-to-girl when it comes to training and medical advice. She was a vet tech but now currently works at Petco as a trainer. Marta is married with two little girls and her pit bull, Solomon. Marta is a huge asset to our rescue and a trusted foster mom. She takes the dogs that need some work and turns them in to awesome companions!
Shearl has been with the rescue for 5 years. She and Joe have a daughter, Irelynn and 3 dogs: Daisee, Diamond, and Lucy. They foster puppies and help with fundraisers.
Gillian is the youngest volunteer of the rescue. She is the daughter of Renae and Dustin. Gillian makes sure all the dogs are comfortable and let's them know they are safe. Gillian has a special bond with every dog she meets.
/